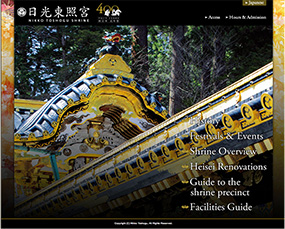 Nikko toshogu Shrine
日光東照宮
IThe Nikko Toshogu Shrine, the most famous shrine of the World Heritages in Nikko, enshrines Tokugawa Ieyasu, the first shogun of the Edo bakufu (shogunate),, but most of it was renovated by Tokugawa Iemitsu, the third shogun, in the Great Reconstruction of the Kanei era in 1636.Inside the shrine, encompassed are 55 architectures including 8 national treasures and 34 important cultural properties.
Each architecture is decorated with sculpture, japan and brilliant color coatings crafted by famous craftsmen selected and gathered from all over Japan. It is said that total 40 to 100 billion yen in present currency value was spent to create those great-flamboyant architectural beauties.
http://www.toshogu.jp/english/index.html
Nikkosan Rinno-Ji Temple
日光山輪王寺
The history of the Nikkosan Rinno-Ji Temple started 1200 years ago, when Shodo Shonin (Saint Shodo),, who firstly served as the head priest of Nikko, founded the Shihonryuji Temple. Sanbutsudo Hall, the main temple, is one of the largest wooden architectures in Nikkousan, and houses Buddhist statues respectively symbolizing honchibutsu (original Buddhist divinity), of the holy three mountains in Nikko, such as Senju-Kannon (Kannon with a thousand arms: honchibutsu of Mt. Nantaisan), Amidanyorai (Amitabha Tathagata: honchibutsu of Mt. Nyohousan), and Bato-Kannon (Kannon with a horse head: honchibutsu o Mt. Tarosan),, which is 8m tall. In addition to the above, there are still many spots that visitors should not miss: such as the Gomado Hall that houses the statues of the gods of fortune such as Bishamonten, Daikokuten and Benzaiten; temple's treasure house that exhibits the statues of Buddha and sutras registered as the national treasures or important cultural properties; Shoyoen garden, a Japanese-style garden that features a path around a pond.
Nikko Futarasan-Jinja Shrine
日光二荒山神社
In 766, Shodo Shonin (Saint Shodo), stepped into the mountains in Nikko. The Nikko Futarasan-jinja Shrine deifies Mt. Futarasan (Mt. Nantaisan),, the most symbolized mountain of those, as its object of worship, and, as an only shrine in the area, has been regarded as ujigamisama (a guardian of the place),, as well as the center of the mountain worship that has been believed in the area for long time. The precinct of the shrine is as large as about 3,400ha and contains the mountains of the Nikko National Park. In the area of the Nikko mountains, there are the main hall and front shrine, the single-layer Irimoya-zukuri-roofed architectures registered as the World Heritage, as well as shinen (shrine gardens), that spring water gushes out. This shrine is also famous for answering to prayers of those who seek good luck, pregnancy, smooth delivery of babies, and marriage tie.